Assembly and Integration
CPG Aerospace adds increased value to our customers' supply chains by providing low-cost, in-house product assembly and integration services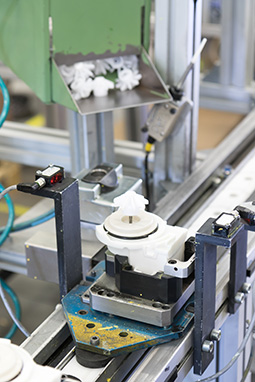 The CPG team uses chemical adhesives or mechanical hardware to combine multiple detail components into complex assembled products.
We perform all forms of bonding in our fixed-temperature, humidity-controlled clean room. Although we do not typically manufacture metal components, we do have the expertise and approvals to bond metal to plastic and rubber.
CPG works frequently with our partners and other aerospace companies that specialize in metal details by providing bonding services to add value to their products.
Our team's assembly and integration services include, but are not limited to, panel assemblies, duct assemblies, headliner assemblies, window assemblies, and cover assemblies. We also provide our customers with parts made from flexible fabrics used primarily for integration into our assemblies. These include sewn items made from nylon cloth/webbing, fibreglass/silicone cloth, polyester fabric and more.
We stand behind all of our products and services and guarantee our customers 100% satisfaction.
Assembly and Integration Product Gallery